How to save load test results in Visual Studio 2013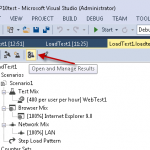 When you execute load test in Visual Studio, you may want to see previous results or to move results to another machine if you need to make report. I had to spend some time to look for the buttons to manage results of Load test in Visual Studio 2013.
Load test results are stored DB so you can see previous results from the test machine. To open and manage test result you should open your load test and click on "Open and Mange Results" button (Figure 1).
After some moments of scanning you will see the list with previous load test results (Figure 2).
To export load test results you should select test item and press "Export" button.
Yandex.RTB R-A-454402-1