Get PID of application pool (w3wp process) using AppCmd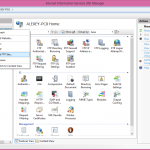 Application pool allows you to isolate your applications from one another in case if they are running on the same server. According to this, if there are errors in one application, they will not influence other web applications executing on the same server or the IIS server itself. But if your w3wp process has 100% CPU load, you must immediately find which process matches your application pool.
If you open Task Manager, you can see PID in Processes tab. But it's not enough to get which application pool it matches.
For IIS7 and older you can find application pool name with AppCmd.
You can use it in console.
Open "cmd" or "powershell" and go to "%windir%\system32\inetsrv" (usually it is "c:\Windows\System32\inetsrv") and enter "appcmd list wp".
The result of this tool is a list of application pools with PID and name.
Yandex.RTB R-A-454402-1
1 Comment »
Dear sir, i am completed in Diploma in Mechanical Engineering currenly working in Piping Design Engineer Solidworks and AutoCAD 3D, 2D & Isometric drawing for PID & process based based modeling. currently experience in 9+ years. Kinndly let me know any vacancy. arunachalam.k2@gmail.com 9840860060 Thanks. Arunachalam.K

Comment by Melody — March 8, 2018 @ 3:35 pm
RSS feed for comments on this post. TrackBack URL
Leave a comment