Automatically enter desktop in Windows 8 after signing in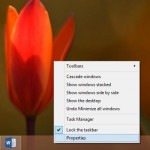 According to one of Windows 8 interface developers Jacob Miller, metro-interface was made not for advanced users but for housewives who use PC only to set "Like" in popular social network. But advanced users don't think the same as Jacob.
After two months of using Windows 8.1 (before I tested Windows 8 Release preview during 6 months) the first thing I did was entering Desktop when metro interface was loaded after signing in. It was not the only uncomfortable thing in this OS. Others where hanging ups without reasons or after updating to Windows 8.1 I couldn't change brightness on my laptop.
I'm a winner in fights with hanging ups and brightness, but desktop still demanded my click. Finally I decided to find a way to enter desktop without my actions.
To enter desktop automatically in Windows 8.1 you need to make the next steps.
1. Open desktop manually and make right click on Taskbar and select (left click) option Properties. (Fig.1).
2. In opened window (Fig.2) go to tab Navigation and set "When I sign in or close all apps on a screen, go to the desktop instead of Start" to On (mark it).
If you have Windows 8.1, you can mark "Show the Apps view automatically when I go to Start". In this case you will see new version of habitual Start Menu. Press Ok. You don't need to reboot or restart.
Yandex.RTB R-A-454402-1